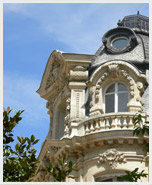 Orbireal is a limited company with a capital of € 40 000, belonging to its associates.
Orbireal has set up a work organisation and a tool to cautiously follow the assets managed.
The professionalism brought to the achievement of our work has allowed us to add company services recognised for their expertise in their respective fields.
GUARANTEES & PARTNERSHIPS
The company meets the regulatory requirements necessary for the practice of its activity and has enlisted the services of acknowledged partners.
Thus, the company holds the
professional card n° 5804 G
issued by the Prefecture
of Police.
Funds held as part of the activity are guaranteed by the
European Society Warranties and Guarantees
, as much as € 1 000 000. It is guaranteed under the Professional Civil Responsibility by
Generali Iard Group
.

We are using a software dedicated to property management, specifically condominium activity. The interface used by our clients comes directly from this tool allowing visibility of the information actually used.

ORBIREAL developed a partnership with Groupe MARCEAU, expert in tailor made and high-end real estate. Depending on your real estate projects, we can find the ideal partner to advise and support you. Find more information on
www.groupemarceau.com
or contact us.